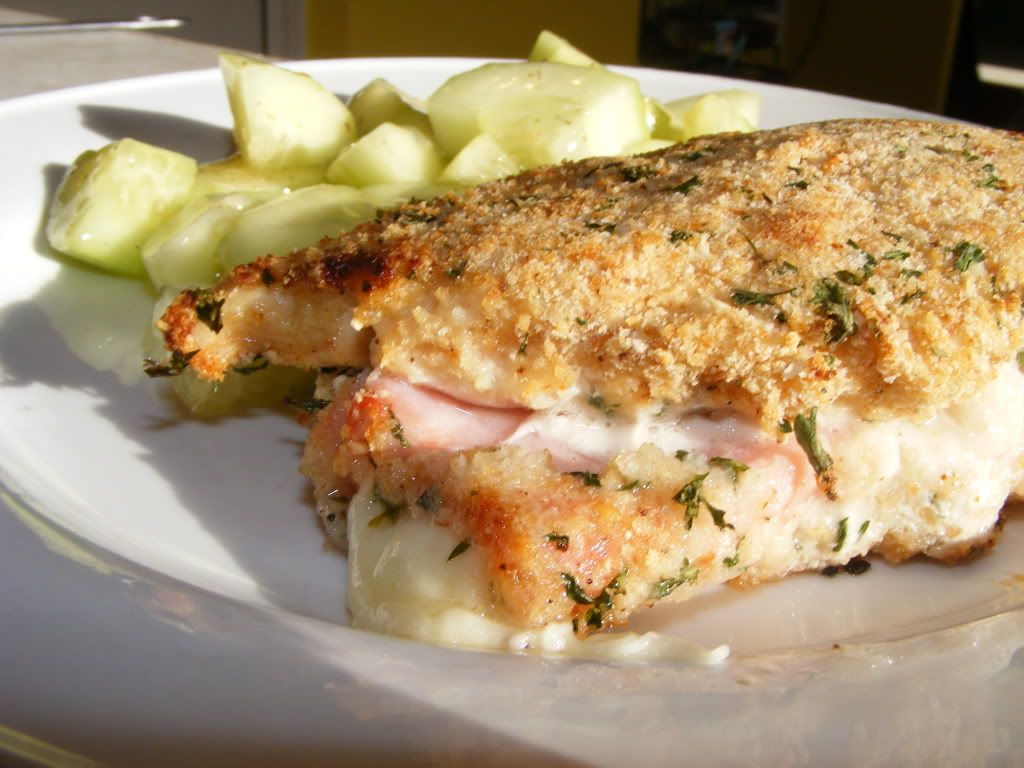 Ingredients:
Olive Oil spray

3 Tablespoons unbleached all-purpose flour

1/4 teaspoon Salt

1/4 teaspoon pepper

1/4 teaspoon garlic powder

1/8 teaspoon paprika

2 large egg whites

1 Tablespoon fat-free milk

1/2 cup dried bread crumbs

1 1/2 teaspoons finely chopped fresh parsley

4 boneless skinless chichen

3 ounces sliced 97% lean deli ham

3 1/2 ounces light swiss chesse slivers

Directions:

1. Preheat over to 450

2. Lightly spray a medium nonstick baking sheet

3. Arrange 3 medium shallow bowls side by side. Mix the flour, salt, pepper and garlic powder in the first bowl. Use a fork to lightly beat the egg whites and milk in the second bowl. Mix the bread crumbs and the parsley in the third bowl.

4. Pat the chicken breat dry with paper towels to ensure that they are as dry as possible. Place the chicken between two sheets of plastic wrap or wax paper on a flat surface.

5. Cut the chicken down the middle towards the other side, do not cut all the way through the chicken.

(I had to try acouple of different things, but this one works the best) using the flat side of a meat mallet to pound them ( I only pound the chicken about three times, making them a bit flater and thinner so that you are able to place the ham and chesse in the middle).

6. place a quarter of the ham and chesse evenly in the center of the chicken, fold one side over and fasten the breast. i did not use anything to fasten them, however you can use toothpicks.

7. Being careful not to unroll it, dip one of the chicken into the flour mixture, then the egg mixture and last bread crumb mixture, place the chicken on the cooking sheet. once all chickens have been coated

lightly spray the chickens, bake for 10 minutes then turn them over and bake for another 10 minutes or until no longer pink inside.

8.Serve Immediately and enjoy

this is another recipe that my family has loved over the months that I have made it. plus the kids loved it too.
All this week, Link up your recipes, make sure that they are direct links to recipes. You can add as many Recipes has you would like all week long.